A collection of fossils, both replica & authentic, taking you on a visual journey through the ages of the Dinosaurs!
We have a variety of fossils on display, from the simple shells that you can find on several fossil hot spots around the UK to an amazing real Dinosaur nest and a complete Megalosaur skeleton.
It is an interesting addition to your day at the park & the perfect place to bring dinosaur mad kids!
Built in the atmospheric basement of the manor, and particularly scary during the Halloween season!
Listen to the stories being told & follow the clues to awaken some of our other exhibits.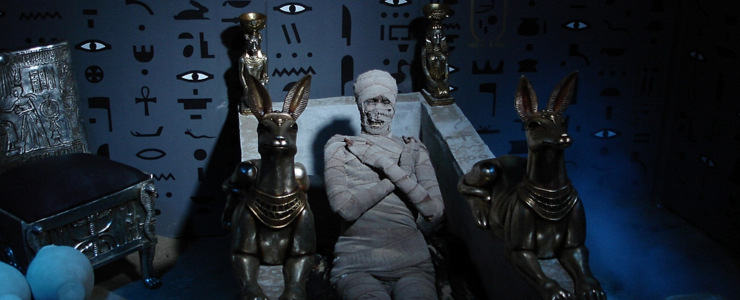 This attraction was intended to be both educational & fun! And even a little scary when our 'Mummy' awakens! But don't worry kids – he's not really alive…at least we hope not!
Inspired by an attraction in one of the theme parks in America, this great ride resembles a gigantic Earthquake! Scream as seven and a half thousand (yes! 7,500) gallons of water hurtle towards you & your fellow passengers!
Don't worry about water conservation though – we use a special recycling system to pump the same water over & over again!
There is a small charge for the ride at £1 per person. Please be aware that this is a water based amusement feature & that you may get a little wet!
This cavernous area will allow you to look into the world of some of the most misunderstood creatures in the world, they are not all creepy crawlies honest! Take time to spot them though as they are easily camouflaged in their naturally furnished tanks.
A vast amount of insects live for a very short time as fully grown adults so we have also exhibited some preserved real insect specimens from around the world that have been mounted for display purposes for you to take a look at. All from sustainable sources of course!
Our park is set within a beautiful valley and you will be amazed to uncover natural cascading streams & waterfalls, various strains of bamboo, tropical trees & plants. We have many rare trees on the park including the critically endangered Wollemi Pine, the Ginko Tree & the Indian Bean Tree.
There are also beautifully designed areas such as our Japanese Garden which has unusual plants, ferns & foliage.
The valley's woodlands provide natural shelter for our visitors from our inclement British weather & will be the closest you will get to being in a tropical rain forest without having to leave the country.